If you are a leader or someone who has been tasked with responding to people in Joyous, you can filter the conversations in your feed to see all the past conversations for just one team member.


This is useful if you are having a one-on-one and would like to have a sense of what is important to them ahead of the conversation.
1. Type the team member's name into the filter bar.
As you begin to type the team member's name, the options presented in the filter results should narrow until you see their name in the list.


2. Select the team member's name from the list.
Applied filters are visible in the filter bar.
You can apply more than one filter at a time, and from multiple filter groups.
To remove a filter, click on the "x" on the right side of the filter chip, or place your cursor to the right of the filter chip and hit delete.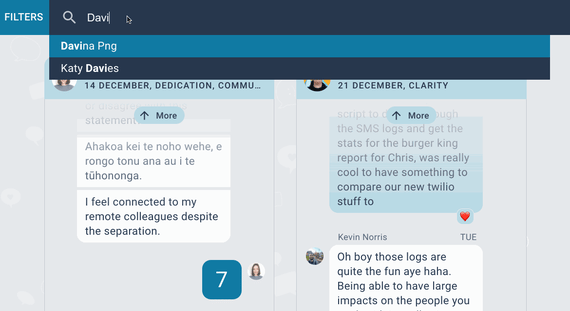 📝 Note: Team member filters are not available from the filter panel.